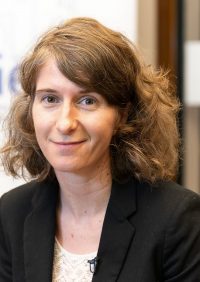 Chloé Brière
Professor
Chloé Brière is professor of EU law at the Centre for European Law and an affiliated member of the IEE (Université libre de Bruxelles). Since 2019, she has been holding the chair in European law, teaching, researching and supervising students in the Faculty of Law and Criminology.
Education 
She holds a PhD in law delivered jointly by the Université libre de Bruxelles and the University of Geneva in September 2016. She holds an LL.M. in European law (College of Europe, Bruges, 2009-2010) and a Master 2 in « European economic law » (Sciences Po Paris, University of Strasbourg"). After working for two years as an academic assistant in the legal department of the College of Europe, she joined the Institute for European Studies as a PhD researcher in July 2012. She has been a member of the GEM PhD School, Erasmus Mundus Joint Doctorate "Globalisation, the EU & Multilateralism" since September 2013.
After holding positions at the Dublin City University and the United Nations Office on Drugs and Crime, she  became in October 2018 "Chargée de recherches F.R.S. – F.N.R.S / Post-doctoral researcher" at the Université Libre de Bruxelles, a position that ended in 2021. She was director of the Centre for European Law between September 2020 and September 2023. She is since September 2023 Director of the Institute for European Studies (IEE-ULB).
Research activities
Her doctoral research focused on the European legal framework in relation to the fight against Trafficking in Human Beings and its promotion outside the European Union's borders. Her research was supervised jointly by Professor A. Weyembergh (IEE-ULB) and Professor R. Roth (University of Geneva). Her work has been published as a monograph in 2021 (The external dimension of the EU's policy against trafficking in human beings, Hart Publishing).
Her research interests include other aspects of European Union Law, such as EU Criminal Law, EU external relations law, EU migration law and the free movement of persons.
An overview of her publications is available here.
Teaching activities
At the Université Libre de Bruxelles, she is in charge of the following classes "Law of the European Union" (DROI-C-3003), "European Integration through Law" (DROI-O-401), and "Law of EU external relations" (DROI-O-608). She is also since October 2021 the academic coordinator for the Advanced Master in European Law.
Chloé Brière
Institut d'études européennes (bureau 204)
Avenue F.D Roosevelt 39, 1050 Bruxelles
Twitter @ChloFlo4
Email: chloe.briere@ulb.be