PhD summer seminar on EU law
This inter-universities and international seminar is designed to encourage exchanges between researchers and universities. More specifically, its aim is to give around 15 or so PhD students the opportunity to explain how their research work is progressing to several guest professors and discuss it with them, to improve their methodological approach and to pool their experience in terms of how they respond to particular difficulties that they may encounter during their research. The stay-related costs of the participants are paid for by the Centre for European Law. The working languages are English and French.
PhD seminar in European criminal law
In addition, the ECLAN network has been organizing PhD seminars in European criminal law every year since 2010.The ECLAN PhD seminar provides a friendly environment in which research students can present a topic of their choice (e.g., their envisaged PhD topic, a chapter of their PhD, a recent paper, etc.) before a panel of outstanding professors of EU criminal law, members of ECLAN, and receive comments, feedback and suggestions.
The seminar has taken place in different universities from one year to the next: ULB (2010), Luxembourg University (2011), Bayonne University (2013), Queen Mary University (2014), Copenhagen University (2015), Vienna University (2016) and  Basel University (2017).
The upcoming PhD seminar will be held at 
the Faculty of Law, Economics and Finance
 of the
University of Luxembourg
on 
January 24-25, 2019
. Applications will close on
November 15, 2018
. More information
here
.
The PhD seminar is aimed at PhD students working in the area of European criminal law and holders of a degree in law, political sciences or international studies.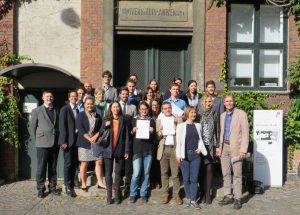 Latest PhD seminars organised by ECLAN
PhD Seminar co-organised with the University of Luxembourg : "25 Years after Maastricht: Achievements, Failures and Challenges of the EU Criminal Justice Area", 24-25 January 2019, University of Luxembourg.
PhD Seminar co-organised with the University of Basel : "The EU Area of Freedom, Security and Justice", 16-17 November 2017, University of Basel.
PhD Seminar co-organised with Professor Robert Kert : "European Criminal Justice – Trends and research methodology", 20-21 October 2016, Institute of Austrian and European Economic Criminal Law, Vienna University of Economics and Business.