The
Advanced Masters in European law
will enable you to develop recognised expertise in EU law and to take advantage of the exceptional location of the ULB in this respect.
The course teaches students about the practice of European law whilst allowing them to acquire the necessary theoretical knowledge to anticipate the evolution, during their professional careers, of laws that are constantly changing. To satisfy this demand, the academic staff is made up of high level researchers attached to the UL but also to other international universities (European University Institute of Florence, HEC Paris etc.) as well as well reputed lawyers and members of European institutions (Court of Justice of the European Union, European Commission etc.).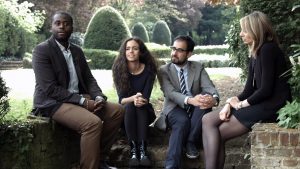 This demanding training requires from each of you sustained effort and constant engagement throughout the academic year. The programme is based on the Law Faculty of the Centre for European Law, which has research teams specialising in
European criminal law, fundamental rights, European asylum and immigration law and economic law
. It is also based on the
Institute of European Studies
of the ULB, which was established in 1964 by Ganshof van der Meersch. Since it was set up, this institute has been developing interdisciplinary research on European integration, which have enabled it to be recognised as a
Jean Monnet Centre of Excellence
and to be a well reputed place for debate on the different phases of European integration.
By opting for the LL.M. in European law at the ULB, you are making the choice of joining a
university located at the heart of Europe
, a stone's throw away from most of the European institutions around which a multitude of governmental actors and civil society representatives gravitate. You will benefit from the draw that the
Institute of European Studies
has on high level civil servants, political decision-makers and practitioners in Europe who collaborate with the teaching, research and the numerous conferences that it organises.
In 2015-2016, the Advanced Masters in European law welcomed some 45 students. In a period of 50 years, over 3,000 people have graduated from here. As the brilliant careers of many of its former students shows, this teaching programme opens up enriching professional prospects in a very diverse range of areas: European institutions, national and regional administrations, the private sector, lobby groups, interest groups and think tanks and international organisations.