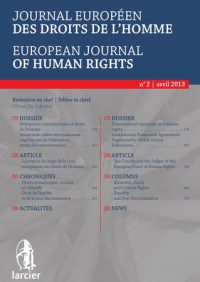 BRIBOSIA, E., et RORIVE, I. (with the collaboration de Joseph Damamme), "Equality and Non-Discrimination",E.J.H.R. (European Journal of Human Rights), n°2, April 2015, pp. 223-243.
The third edition of the column (January to December 2014), conirms the relevance of an integrated, transnational and comparative approach to equality and non-discrimination law, ignoring the boundaries between supranational legal orders. It focuses on three grounds of discrimination : (I)  gender, (II)  disability, (III)  religion and belief, and stresses the sustained growth of case law in many areas.
While litigation relating to religious discrimination remains surprisingly conined to the European Court of Human Rights, discrimination based on gender or disability is subject to a wider variety of forums : Court of Justice of the European Union, European Court of Human Rights, European Committee of Social Rights, Committee on the Rights of Persons with Disabilities, Committee on the Elimination of Discrimination against Women. In a strategic perspective, this column discusses the rise of transnational mobilisation of organisations in view of strengthening religious freedom, often with a conservative agenda. Finally, when supranational courts are using external sources, this remains chiely implicit or poorly articulated.