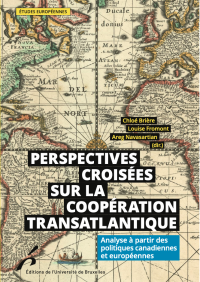 On August 25, a multidisciplinary collective volume, entitled "Perspectives croisées sur la coopération transatlantique, Analyse à partir des politiques canadiennes et européennes" (only in French), was published by Editions de l'Université de Bruxelles.
Edited by three members of the Center for European Law, Chloé Brière, Louise Fromont and Areg Navasartian, the book focuses on the new dimension that the conclusion of the Comprehensive Economic and Trade Agreement, also known by the English acronym CETA, between Canada and the European Union has made it possible to build on the close ties that exist between these partners.
The book, made up of contributions from European and Canadian specialists in law, economics, international relations and political science, offers a multidisciplinary panorama of the many facets of Euro-Canadian relations. It focuses largely on the economic relations envisaged by this agreement and highlights some of its particularities, including its ambition in terms of protecting certain social and environmental standards and in terms of fundamental rights.
It also questions its specificity with regard to other free trade agreements concluded by both the European Union and Canada, as well as within the framework of other regional groups and its articulation with broader developments in international trade relations.
Finally, the book explores how transatlantic cooperation between Canada and the Union can translate into concerted action in international forums.
More information, as well as the text of the introduction, is available here: LINK