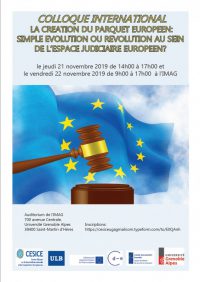 Le Centre de droit européen a co-organisé, en novembre dernier, le colloque international « La création du Parquet européen : simple évolution ou révolution au sein de l'espace judiciaire européen ? » qui s'est tenu à l'Université de Grenoble Alpes.
Les intervenants, parmi lesquels Anne Weyembergh (professeure et directrice du Centre) et Chloé Brière (professeure), ont abordé les caractéristiques du Parquet européen, sa mise en œuvre au niveau européen et national, sa coopération avec les autres acteurs de l'UE et les États tiers, ainsi que ses possibles futures évolutions.
Leurs interventions – en anglais ou en français – ont été filmées et sont accessibles ici.
_____
Last November, the Centre for European Law co-organised the international conference « The Establishment of the European Public Prosecutor's Office: Simple Evolution or Revolution within the European Area of Criminal Justice ? » which took place at the University of Grenoble Alpes.
Speakers, among whom Anne Weyembergh (professor and director of the Centre) and Chloé Brière (professor) discussed the characteristics of the EPPO, its implementation at European and national levels, its cooperation with other EU actors and third countries, as well as its possible future evolutions.
Their interventions – in English or in French – were filmed and are available here.