Apéro du droit européen: Falling through the cracks? Improving access to protection and remedy for victims of human trafficking for labour exploitation
24 June 2021  à  17h 30

-

19h 30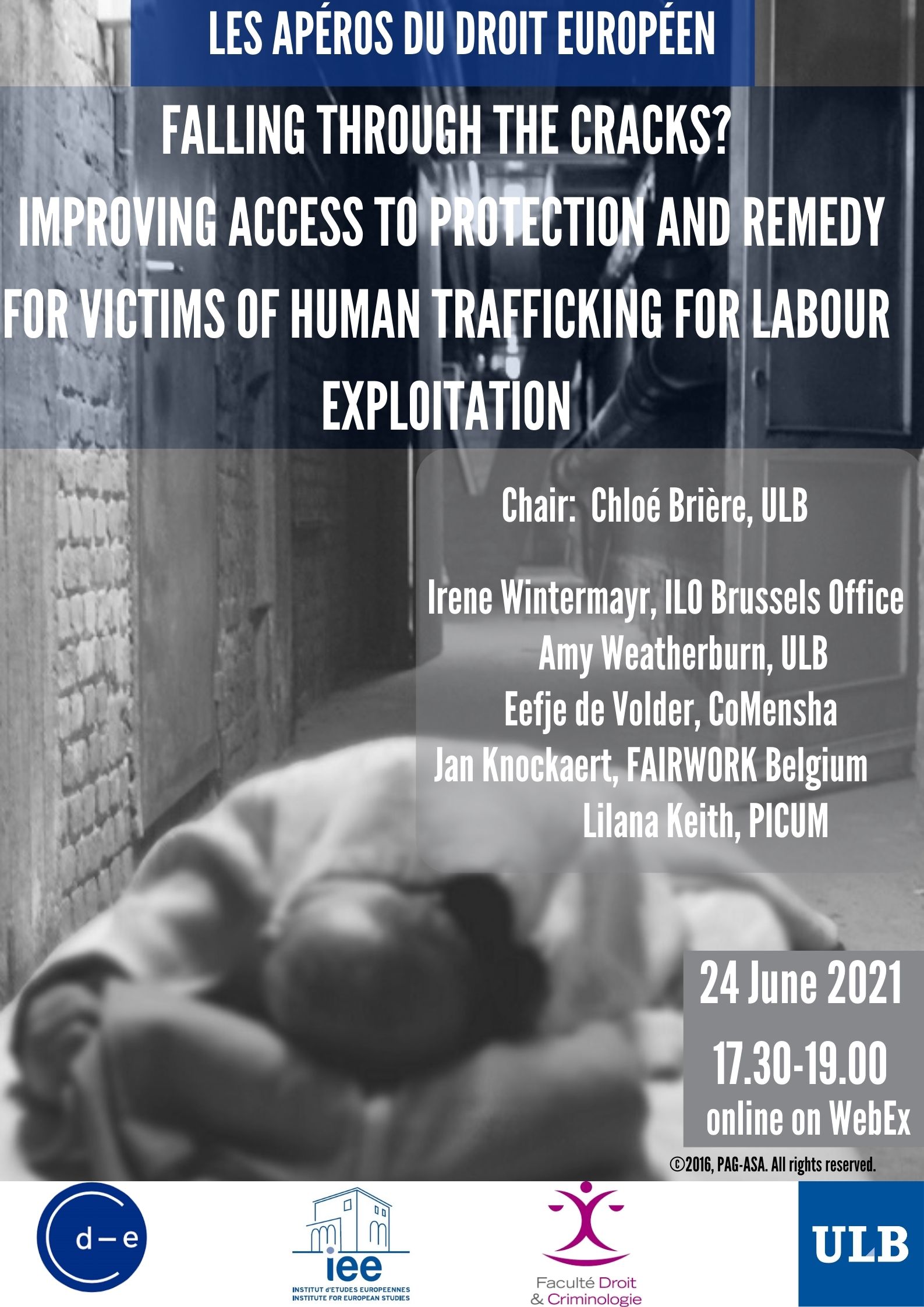 Both Belgium and the Netherlands are recognised for their handling of anti-trafficking law and policy. A recent ILO Study examines the access to protection and remedy for victims of human trafficking for the purpose of labour exploitation that are available in both countries. In addition to mechanisms specifically put in place for human trafficking victims through the criminal justice system, the study also considers the availability of alternative avenues for remedy in civil or labour judicial proceedings and through administrative mechanisms. Based on interviews with practitioners, it examines the barriers that exist to making use of these avenues, identifies good practices and suggests action points for improvement.
To present the main findings of the ILO Study, the IEE-ULB and the Centre for European Law have convened this Apéro du Droit Européen. In addition to the study's co-authors, speakers will include experts to share insights as to how the findings of the research can feed into future considerations for anti-trafficking, labour migration and access to justice law and policy both nationally and more widely across the European Union.
The debate will be moderated by Chloé Brière, Professor at ULB and Director of the Centre for European Law. Speakers will be: Irene Wintermayr (Policy Officer, ILO Brussels Office), Amy Weatherburn (Postdoctoral Researcher FNRS-F.R.S, ULB), Jan Knockaert (Coördinator, FAIRWORK Belgium), Eefje de Volder, (Human Trafficking Labour Exploitation Advisor, CoMensha – Coördinatiecentrum tegen Mensenhandel), Lilana Keith, (PICUM – Platform for International Cooperation on Undocumented Migrants).
The event will be held online on WebEx on 24 June at 5.30 Pm. To register click on this link. Registration is free but mandatory.