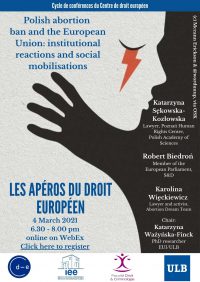 The second "Apéro du droit européen" of the academic year took place on 4th March 2021. It was entitled "Polish abortion ban and the European Union: institutional reactions and social mobilisations".
The discussion was conducted by Robert Biedron, Member of the European Parliament (S&D) Karolina Wieckiewicz, lawyer and activist (Abortion Dream Team), Katarzyna Sekowska-Kozlowska, lawyer and researcher (Poznan Human Rights Centre, Polish Academy of Sciences).
The debate was moderated by Katarzyna Wasynska-Finck, PhD student at the EUI/ULB.
You can find the recording of the session on YouTube via this link.