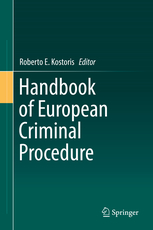 WEYEMBERGH, A., "History of the Cooperation", in Handbook of European Criminal Procedure (Ed. Kostoris, R.), Springer,  2018, pp. 173-199.
This volume analyses criminal procedural issues from a European perspective, particularly in connection with EU law and ECHR law. As such, it differs from previous works, which, on the one hand, generally focus only on EU law, and, on the other, address both procedural and substantial aspects, as a result of which the former receive inadequate attention. Indeed, criminal procedural matters in the European context have now reached a level of complexity, but also of maturity, that shows the features of a great design, which, even if not yet defined in all its aspects, appears sufficiently articulated to deserve to be explained in a systematic way.
The book offers a guidance for practitioners, academics and students alike. It covers a broad range of topics: from the complex system of the sources of law to the multilevel protection of fundamental rights; from vertical and horizontal judicial and police cooperation to the instruments of mutual recognition, primarily the European Arrest Warrant; but also the European Investigation Order, the execution of confiscation orders, the ne bis in idem principle, the conflicts of jurisdiction and the enforcement of judgements. The book also reflects the latest regulation on the establishment of the European Public Prosecutor's Office.