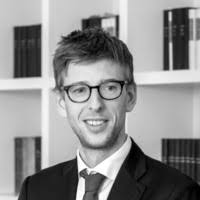 Marco Urban
Former Members
Marco Urban holds a Bachelor and a Master in Law of the University of Lausanne (CH). Within his Master, he studied at the University of Osnabrück (DE) and took part in the Swiss Moot Court. Alongside his academic activities, Marco has worked as a jurist in the associative field, as an Assessor Judge in the Conciliation Commission for rental leases of Lausanne, and as a Legal Counsel at the Mission of Switzerland to the EU in Brussels. He currently works within the Federal Swiss administration on matters linked to European affairs.
Research activities
Marco completed a doctoral thesis at the University of Lausanne which is written under the supervision of Professor Michael Hahn (University of Bern). His thesis aims to provide an analysis of Interinstitutionnal agreements concerning the procedure for the conclusion of International agreements. Holder of a Scholarship from the Swiss National Science Foundation (FNS/SNF), he conducted an academic stay at the European University Institute of Firenze and conducted a six-months research stay at the Centre of European Law. Apart from the EU Institutional Law, he is also interested in the development of Swiss-EU relations.
Teaching practice
Marco worked as an academic assistant in the Department of Business and Tax Law, within the Faculty of Business and Economics (HEC) of the University of Lausanne. As part of his work, he has taught lessons in the field of Swiss commercial Law and Swiss company Law.
Publications
Guy Mustaki/Marco Urban, Typologie des conflits entre actionnaires, in: Développements récents en droit commercial V, Bulletins CEDIDAC, Lausanne 2017.
Marco Urban, Les compétences du Parlement européen au sein de la procédure de conclusion des accords internationaux – Quel rôle pour le Parlement européen dans les relations Suisse-UE depuis la réforme de Lisbonne ?, Swiss Review of International and European Law (SRIEL), 2016, vol. 4.
Marco Urban, Les accords interinstitutionnels, Newsletter de l'Institut suisse de droit comparé, N°37, 2015.